Apply Now
As an appointed mortgage broker with all of the leading mortgage lenders in Ireland, Finance One makes buying a home far easier for first time buyers.
We know whether or not you meet the lending criteria of all or any mortgage providers
We fully understand the Central Bank exception guidelines
We know which lenders have income and loan-to-value exceptions available
We understand the paperwork required for all lenders
Finance One offers a comprehensive mortgage service to clients, with mortgage journeys generally taking the following path:
Initial meeting with our Mortgage Advisor to identify borrowers' requirements
Mortgage Advisor gives a clear and informed opinion of the client's options
Client submits the full paperwork required to the Mortgage Advisor for assessment
Recommendation on the best suited mortgage available on the market
Application submitted by Mortgage Advisor to chosen Mortgage Lender
Client's Approval in Principle issues by the Mortgage Lender
Review of mortgage insurances required, as part of a full financial protection review
Clients source their property and make a purchase offer
Property survey and bank valuation is obtained
Final agreement in relation to fixed and variable interest rate options available
Full Loan Offer pack issues to the client's solicitor
Continuous liaison with the client and their solicitor to ensure the mortgage cheque issues for the agreed closing date.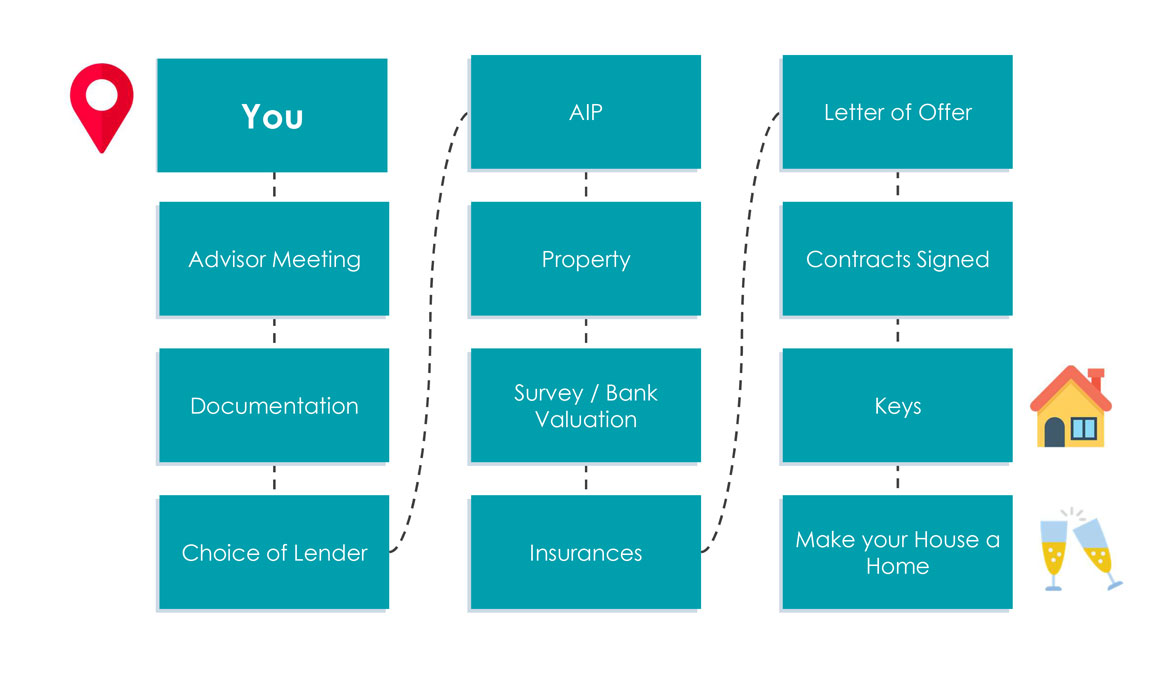 The aim at Finance One is to understand our clients' needs, advise on their options, simplify the jargon, and guide people through every step of a mortgage application.
Finance One details all costs associated with buying a first home.
We can introduce clients to our panel of Solicitors and Surveyors to ensure they have the best professional guidance for their purchase.
Our team of highly skilled and experienced advisors is ready to take all the stress out of a mortgage application, and our experienced support staff are in regular contact, and always available to ensure a seamless process.
At Finance One, we organise regular First Time Buyer Seminars to educate potential new buyers on the dos and don'ts of preparing a first mortgage application.
Book a First Time Buyer webinar
Our 17-page eBook gathers up our accumulated knowledge about how to prepare for a Mortgage Application and gives it to you in one easy read.
Download our 'Top Tips for First Time Buyers' eBook
Contact us today
Let us know how we can help you